SWIPES Washable Microfiber Scrubbing Pad for Spray+Mop & Steam+Clean
$10.99
Regular price
$10.99
Sale price
Unit price
per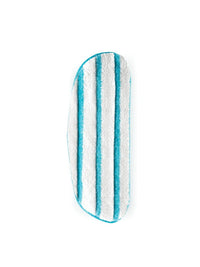 $10.99
Regular price
$10.99
Sale price
Unit price
per
Description

Let your hard floors shine with the SWIPES™ Washable Microfiber Scrubbing Pad. Clear away grease and grime with 3 nylon scrubbing strips and WetLock Technology™. When you're done cleaning, don't throw it away; just toss it in the wash to use it again.

We recommend about 50 washes with this pad, or nearly one year of cleaning once a week! We also recommend having more than one pad in your home for more frequent cleaning, so you don't have to wait to wash and dry your pad.

Features:

SWIPES™ with WetLock Technology™ picks up what disposable pads leave behind while simultaneously cleaning hard floors and baseboards.
3 rows of nylon scrubbing strips to tackle tough grease and grime.
Machine washable.
Custom fitted for The Dirt Devil® Spray+Mop & Steam+Clean™.
Great for any hard floor surface including tile, wood, laminate and more.

Part number AD51000 is compatible with models PD11005BMD, PD11000BMD, PD11030, PD11020, PD11020PC, PD11000W, PD11000CA, PD11000PC, PD11030U, SD21000CCA, PD11000, PD11000BPC.
View full details
Parts & Accessories

No parts and accessories are currently available
Specifications

Product Name

SWIPES Washable Microfiber Scrubbing Pad for Spray+Mop & Steam+Clean

Web Item Category

ACCESSORIES-AND-PARTS

Web Item Subcategory

REPLACEMENT-PARTS